About Denzel Papillons
Denzel Papillons is one of the most well-established and successful Papillon kennels in the world. Tracy Burdick started Denzel in 1983 due to her love for the Papillon breed, a passion which has lasted over 45 years. But even before becoming involved in this breed, Tracy was a dog lover with competitive aspirations. At age 13, she became enamored with the sport of obedience while attending a dog show as a spectator. She saved her allowance and worked part-time jobs to purchase a tiny, pet-quality poodle puppy — with clear intentions of training for future obedience competition. While obtaining a CDX obedience title on the poodle, Tracy discovered Papillons at a dog show. She was attracted immediately by the Papillon's intelligence, trainability, alertness, and easy-to-groom, glamorous coat.
Tracy became known in the Papillon fancy under her previous (maiden) name of Halverson, when she began competing in obedience, junior showmanship, conformation, and tracking with her first Papillon, CH Kavar Athena's Nimbo UDT. "Nimbo" was bred by Pearl George and purchased in 1974 from the late Lee Drexler (Pago Papillons, Ohio) as a three-year old, retired champion. Later "Nimbo" earned a place in history as the first Papillon to earn the combined titles of Champion, UD, and TD. For non-show folks, UD translates to Utility Dog (obedience title) and the TD indicates a Tracking Dog title. "Nimbo" also was Tracy's junior showmanship dog and together they earned the Papillon Club of America's Top Junior Showman award for 1975, Tracy's only full year of competition before reaching the junior age limit.
In late 1983, after nine years of showing Papillons and extensive study of the breed, Tracy bred the first Denzel litter from a champion bitch leased from Karen Hagler. This litter produced the first three Denzel champions, first toy Denzel group placer and first Denzel obedience titleholder. Today there are over 200 homebred (or co-bred) champions and performance titleholders, including top producers and Best In Show, Specialty, and High In Trial winners.
The Denzel breeding program utilizes consistent line breeding on carefully chosen top producers from the USA, Canada, and England. Equal value is placed on the areas of breed "type" features, structure and movement, health and longevity, and proper temperament — each area is considered essential for a quality pet as well as a top show dog.
Denzel Papillons have proven their excellence in agility, obedience, and tracking. Producing dogs that can achieve success in performance competition is one of Tracy's priorities. Focus, drive, and food motivation are vital attributes along with the physical qualities of normal patellas, balance, proper balance, angulation, neck length, and substance. Tracy believes these dogs should be much more than just pretty faces!
Tracy enjoys showing her own dogs and has become known as one of the breed's top owner-handlers. She is one of only two American breeders who have handled Papillons to High In Trial and Best In Show — the highest AKC awards in obedience and conformation competition. This success from both sides of the sport has assisted with the building of a foundation for breeding versatile dogs with sound bodies and minds. And Tracy is obviously very proud of being the co-breeder of the first Papillon (and first of any toy breeds) to earn the combined titles of Champion, Obedience Trial Champion, and Tracking Dog Excellent (CH, OTCH, TDX) and Champion, Obedience Trial Champion, and Master Agility Champion (CH, OTCH, MACH). The intelligence and trainability of these little dogs is truly awesome!
Many beautiful Papillons have shared Tracy's life over the past 40+ years and she has enjoyed many exciting moments in the show ring. Some of the most memorable dogs include: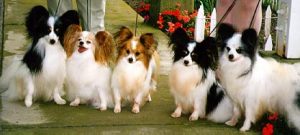 Denzel Papillons brighten many homes across the U.S. and Canada. The puppies and adults dogs destined to serve as companion pets are carefully matched to new homes and spayed or neutered before leaving. Be sure to view our pet photo gallery to see these beautiful examples of Denzel Papillons doing their most valuable work — companionship.
Retired Denzel champions are placed in pet homes where they live as cherished pets. They are spayed or neutered before placement, with the exception of those possessing the best qualities needed in the breeding program. These retirees find local homes with friends and return occasionally for breeding or to raise a litter. This arrangement has worked out well for all — the dogs relish the individual attention; the new owners treasure their well-mannered, gorgeous "show dog" pets; and Tracy maintains a premiere breeding program with fewer dogs in residence.
Some retired champions that enjoy being pampered pets for their lucky owners.
Out of her love of the breed, Tracy became involved in Papillon rescue efforts. After founding Colorado Papillon Rescue in 1994, she directed the efforts in the state to rescue, foster, and rehome abandoned and surrendered Papillons for more than a decade. This was a very rewarding experience, but she always dreams of the day that rescue will be unnecessary through effective public education in responsible dog breeding and ownership.
Affiliations
American Dog Owners Association, member
Colorado Papillon Rescue (ceased operations 2007), founder & director
Columbine Papillon Club, charter member, past Vice President
Metropolitan Area Papillon Club Of Washington DC (MAP), member
Mountain States Dog Training Club, Inc., former member
Papillon Canada, member
Papillon Club of America, Inc., member since 1974, Archivist and Custodian of Hall of Fame, Awards Committee Chair. Previously served as editor/publisher and regional reporter of national newsletter (Pap Talk), Judges Education Committee Chair, Rescue Committee member, and 1983 National Specialty Chair.
Papillon Club of America Rescue Trust, former Medical Assessment Committee member
The Papillon (Butterfly Dog) Club (UK), member
Friend of Felines (cat rescue), foster home