Am/Can CH Denzel
Killian's Red
CD (SOM)
"Killer"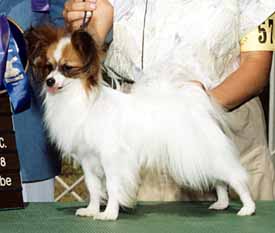 ---

(The following article about "Killer" was written by Tracy in 1989)
THE MANY LIVES OF "KILLER"
At 8 weeks of age, he would attack my shoelaces with more ferocity than any of his three larger littermates. To watch this tiny ball of fluff buzzing around the room, stopping only for brief moments to bite another puppy's ear or pull a tail, it seemed natural to call him "The Killer Bee." At this tender age, there was no guarantee of show quality, and certainly no assurance that this baby Papillon would become what I had dreamed of–a red & white son of my first group winner and dearest companion, Ch. Kvar Red Wings, CDX, who was nearing 10 years of age.
My dream started to dissolve when 10-week-old Killer and his 12-week-old half-sister Spree refused to eat and appeared depressed. I left both puppies at the vet clinic for observation while I went to work that morning. Neither exhibited any vomiting, diarrhea, elevated temperature, or unusually high white blood cell counts. Both were released to my care after work to be treated with antibiotics. At daybreak the next morning, Spree went into hypoglycemic convulsions and died in my arms within seconds. Killer returned to the vet hospital, along with his littermate Johnny, who was now depressed and refusing to eat. Both puppies went into intensive care; front legs were shaved for insertion of catheters for IV fluids and antibiotics to be administered every four hours. In the next week, a third littermate joined them but recovered fully in a few days and two other older puppies were treated for several days and then released. While each puppy showed identical signs of depression and lack of appetite, only a few suffered from diarrhea or vomiting. Johnny spent a week in intensive care, at one point becoming so weak that he could not raise his head to acknowledge my presence. He experienced vomiting and diarrhea and also "crashed" twice into hypoglycemic convulsions and was revived by immediate dextrose injections. Killer's symptoms followed the same path as Johnny's for the first 5 days, but as Johnny began to recover and eat on his own, Killer fluctuated in and out of coma. It became difficult to keep catheters open for the live-sustaining dextrose which fed his withering body. As his tiny veins collapsed around the catheters, rear legs were shaved to find more usable veins. He was moved to an incubator where he could be more closely monitored and receive oxygen. He no longer had the strength to hold up his butterfly ears, so they flopped into his face. Diarrhea which further weakened him also soiled his bedding as soon as it was changed. He could not be bathed, so feces-covered fur had to be cut off.
I visited Killer every morning on my way to work, got a status report over the phone at lunchtime, and stopped for another visit on my return home in the evening. On Sundays I was allowed to schedule a visit when a veterinarian came in to give treatments. Due to the contagious nature of the virus, Killer was isolated from the other animals, but during one visit, I discovered that I was not the only person visiting a critically ill pet. I heard voices in the back room and my investigation revealed a room filled with people who cradled sick or injured pets in their arms and discussed many disheartening prognoses with each other. I finally found it impossible to hold back the tears. It became apparent after Johnny's recovery and return home that the virus should have run its course and if Killer would eat, his strength would also return. Although he would accept an occasional bite of canned dog food or piece of roast beef, it was never enough to sustain him without IV fluids. So to get his digestive system operating again and hopefully increase appetite, he was fed by stomach tube. After a week of this treatment, he had gained strength and would eat some canned food on his own. After two full weeks of hospitalization, I was told that Killer would soon be able to come home! The next day Killer was vomiting again. The forced feeding by stomach tube had to cease. Again he crashed repeatedly and without warning. Luckily there was always a veterinarian or technician at hand to immediately administer a dextrose injection to bring him back to life. Three days later, Killer blew his catheter again, leaving no veins to access in his limbs. His throat was shaved and the juggler vein became the last resort.
By now I could not avoid the questions that had nagged at me for a long time. What was the purpose to keep this puppy alive by such extreme measures and cost? Would I be left with a frail adult, susceptible to future disease? Useless as a show dog? Unplaceable as a healthy pet? I made up my mind to request euthanasia on my visit to the clinic that night. The veterinarian who took charge of Killer was Dr. Ray Cox at Deer Creek Animal Hospital in Littleton, Colorado. Always searching for answers to any medical question, Ray had to admit that there were no clear cause for Killer's failure to recover as did the other puppies. Perhaps his liver had been damaged severely by the virus or some internal defect was prohibiting proper liver function, and therefore preventing recovery. But because of Killer's incredible will to live, Ray was not ready to give up and he offered all further treatment at no cost to me. He asked if I considered Killer to be a good show prospect, and I had to laugh before replying. It was impossible to see any potential in the pathetic, emaciated creature in that incubator. Nevertheless, Killer's battle would continue… More than a week passed where Killer had some good days and some of the worst days yet. The IV catheter had blown from the juggler vein so injections were given subcutaneously which caused small skin abscesses to form. On two consecutive evenings, his condition was so severe that I quietly said my goodbyes and left the clinic in tears.
Ray began taking Killer home with him at night rather than leave his care to a technician who handled night treatments at the clinic. Then an out-of-town veterinary conference required Ray's absence for almost a week. His partner, Dr. Dan Brod, took over Killer's care (including taking him home at night). Later Dan admitted the tremendous fear that Killer would finally die while in his care, and technicians told me that Ray called every day to see how Killer was doing, dreading the possible loss of the puppy during his absence! By February 21, Killer had not crashed in two days, was eating on his own, and was off the IV fluids. I was told that I could take him home–this news left me in sheer terror. After all we had been through, what if he died once I had him back home? Realizing that he couldn't live the rest of his life at the vet clinic, I brought the frail puppy home at last. His ears were completely down, hair was missing in large patches, and he weighed a mere 1 lb. 2 oz. at 14 weeks of age, having lost one-third of his body weight in 4-1/2 weeks when he should have gained at least that much during normal puppy growth! Every bone was visible under the skin so he was jokingly referred to by the technicians as the "walking skeleton" or the "fuzzy carcass." He seemed rather listless after eating his dinner. Although I had emergency dextrose on hand, I lost my nerve and returned Killer to the clinic for the night. The next evening he was more alert and survived the entire night in my care–not a restful one for either of us as I checked him every two hours, gently prodding to see if he was unconscious or simply asleep!
For the next week, Killer stayed at the clinic during the day while I was at work and came home for the night. I did not leave the house when he was in my care, fearing a relapse. He stayed in an exercise pen in my bedroom where he could not be injured in play with the other puppies. All remaining patches of coat fell out but were followed by growth of a thick, healthy coat. Somehow the ear leather strengthened and his ears became erect again. He had a tremendous appetite and continually grew stronger. By 6 months of age, Killer had the general appearance of a 4-month old Papillon puppy. He made two long trips with me to out-of-state dog shows, primarily because nobody knowing of his past wanted to be responsible for his care! Killer's match debut in July resulted in a Puppy Group II. I presented the group rosette to Dr. Cox who promptly pinned it on the wall in his examination room and told me that I'd never know just how much that ribbon meant to him. He was genuinely thrilled that the efforts to save Killer were being rewarded in the show ring. And all who notice the plain brown rosette on the wall are told the story of how many times Killer "died" and was revived.
Killer made his show ring debut on August 16, 1987 at the Greeley KC show. Now officially registered as Denzel Killian's Red, he was Best of Winners for a 4-point major at 9 months of age. A show photo of this win was given to Ray Cox, and it joined the match rosette on the wall of his exam room. Killer added another point with BOW at Roaring Fork KC on August 23, and the next weekend he won a second 4-point major and BOW at Cheyenne KC. Sitting at 9 points, I decided to hold him out of the ring for 9 months until the PCA National, Chicagoland, and So. California specialties in June & July, 1988. There was no point in rushing to get the CH when I already had a dog to show in the specials class. Most importantly, my dream was to show him in the Bred-By-Exhibitor classes at these specialties.
But misfortune returned and almost ended the dream. On September 29, Killer refused to eat his dinner. An hour later, he vomited fluid twice, then began to cry out every few minutes, eventually becoming disoriented after each yelp. I called Ray at home. As soon as he heard it was Killer, he said he would meet me at the clinic as soon as he could get there. I wrapped Killer in a blanket, jumped in the car, and made the two-minute drive to the nearby clinic in record time. While waiting in the car for Ray to arrive, Killer had repeated "attacks" and his breathing became very shallow. I was in sheer panic and near hysteria and began to walk back and forth in front of the clinic door, shaking Killer and telling him not to die! When Dr. Cox arrived, Killer was in the midst of another attack, his front legs extended and rigid. Ray immediately went to work trying all life-saving measures, with no idea what the cause was. The IV catheter went in again (no easy task with well-worn veins from his earlier treatments) so fluids could be started. Killer was unconscious and breathing with help of respirator and trachea tube. Later I was told that his heart rate was only 4 beats per minute. Somehow I think mine was very close to that as I watched the frantic effort to once again save Killer's life. His temperature quickly dropped below 95 degrees. An x-ray showed a partially collapsed lung, and a heart murmur was detected. When bloody fluid began to come out of the trachea tube, I was warned that internal bleeding was present and the condition was critical.
Not knowing the cause or how extensive the internal damage was, Ray called his partner, Dr. Dan Brod, who is the resident expert in ultrasound, to do an ultrasound examination of Killer's heart. While trying to reach Dan, Killer began to improve. Resting on a heating pad, his temperature gradually returned to normal. He regained consciousness and began to breath without assistance. By the time Dan arrived at 11:30, the trachea tube had been removed and Killer was standing and wagging his tail! The ultrasound showed no abnormalities, but Killer remained in the incubator until the next evening when he was released to my care–a little wobbly and tired, but happy to be home again. Antibiotics and cortisone healed the lung quickly, and the heart murmur was gone when rechecked a week later. We have no idea what caused the episode, which was considered to be a severe anaphylactic reaction. I was unable to confirm that Killer had been stung by an insect or consumed a poisonous substance. But I shall never forget the sheer terror of the moment when I felt no life in that little dog. And Ray put it this way, "if Killer had died that night, I would have died with him." Ditto!
I told Ray of my plan to hold Killer out of the ring until June. He mused about how wonderful it would be if Killer could win at one of these large shows. I cautioned that it was doubtful to win in an huge entry of Papillons from across the nation and Canada, but it would be fun to show my "miracle" dog anyway. On June 17 at the Skokie Valley KC show (supported entry of the Papillon Club of America) in Grayslake, Illinois, Killer and I returned to the ring for the first time since his puppy class experience 9 months before. Killer was full of nervous energy and had the look of the devil in his eye. I asked him to behave himself–if not for me, then for Ray. He showed like a dream and walked away with Winners Dog for 5 points from the Bred-By-Exhibitor class. He was much too small to get a look from the National Specialty judge the next day. However, the final show was the Greater Chicagoland Papillon Club specialty, officiated by a breeder-judge Mark Hutching from England. Killer again won the Bred-By-Exhibitor Dog class and went RWD to another Pap of my breeding who won the Open class. Two weeks later, Killer was back in the ring at the Papillon Club of Southern California Specialty on July 1. Under breeder-judge RIchard Mullen, he finished his championship with 5 points and Best Of Winners from the Bred-By-Exhibitor class. To top off the day, his sire won the Stud Dog class with Killer and a litter sister representing his get. In late March of 1988, Killer's first litter was born, to later became his first three champion offspring. After their arrival, I knew that in spite of what the future brings for Killer, he will live forever.
Postscript
Killer went on to produce 5 champions, the most notable being CH Denzel Loteki The Hypnotizer "Tizzy". Tizzy is best known for producing the Best In Show littermates–CH Denzel Say The Magic Word "Presto", and CH Denzel Tiger By The Tail "Tiger".
Best of all–Killer was still alive & well at 17 years of age, enjoying the life of a pampered pet with a senior citizen in Denver.