Purchasing a Denzel Papillon
Denzel Papillons are known worldwide for their consistent quality, breed type, trainability, and carefully planned pedigrees. The Denzel breeding program, established over three decades ago, incorporates a multi-faceted approach placing equal emphasis on breed type and beauty, temperament, sound structure, and health which includes screening for genetic defects of the heart, eye, and patella.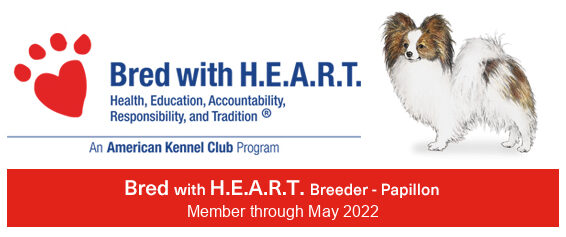 Denzel puppies sold as companion pets (not for show competition) are typically not placed in new homes until at least 4 months of age, at which time they already have been spayed or neutered, vaccinated, wormed, and permanently identified by AVID microchip. They will also have been given a clean bill of health by a vet including screening for heart defects and patellar luxation. During those first important months of life, all puppies receive extensive socialization in a family environment, leash training, crate training, weekly bathing and nail trimming, and introduction to teeth brushing. We want the transition to a new home to go smoothly and do whatever we can to ensure an easy adjustment for our pups. We also value the time spent watching growth and development, as this provides the critical data needed our breeding program's successful future. And by evaluating personality as it developments and individual traits become evident, we can more accurately match each puppy to its future home.
On occasion, some very special retired champions (spayed/neutered) are available to discriminating homes. These beautiful adult dogs are ideal for owners who are not eager to take on the challenges of raising a rowdy puppy.
Our well-developed system of socializing, training, and behavior evaluation has helped achieve an unparalleled reputation in the dog fancy for producing friendly, affectionate, trainable, adaptable, confident dogs that are not yappy and easily transition to new homes. All new owners receive detailed instructions on diet, grooming, and training. In addition, for the lifetime of the dog their owners have access to Tracy's 30 years of experience in dog care and training.
We take great care to match the individual puppy or dog (size, energy level, behavior traits, etc.) to the new owner. The screening and matching process begins with a questionnaire; please request one if you are interested and it can be emailed to you. If we don't have the right dog for you, we will gladly refer you to other reputable, responsible breeders to help you find a quality Pap and avoid the problems that often come from purchasing your new companion from a large commercial breeder, backyard breeder, or pet store.
Please contact us for specific information about available dogs or puppies. We are always happy to share our love and knowledge about the breed with those who can provide a wonderful home for a top quality Papillon.